What Are You Looking For?
Testimonials
 Simon Moser - StrainInsider - "I really really like it, and trust me, companies are sending us expensive weed gadgets on a weekly basis."

Simon Moser  
Jon Cappetta - HighTimes - "The grinder's dope - definitely good for on the move bowl packing!"

Jon Cappetta
David Carpenter - Forbes - "I'm really impressed with the ZAM grinder. Simple, light, easy to spin, feels great in your hand."

David Carpenter
Weedloving.ca - If you consider yourself a cannabis connoisseur, the ZAM grinder is definitely going to make your smoking sessions feel more special and valuable.

Weedloving.ca
ZAM Grinders - Maximize Your Flower
From our stealthy 1.1" grinder to our indestructable stainless steel 2.5", ZAM has the weed grinder for you.
Designed for grinding weed and proud to say it.
See All Products
A Portable Weed Grinder That Doesn't Suck
The ZAM 1.1" pocket grinder is built to be a little different than other weed grinders.
Here's how: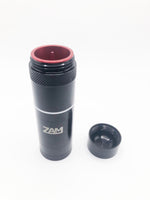 Perfect Size for the Pocket
With a diameter of only 1.1" inches and a length of 3.7" inches, this grinder is the perfect size for carrying on-the-go, in the pocket, purse, etc. 
The surface area of the lid was increased and diamond knurling surface texture was added for maximum application of grip and torque. No more hands slipping.
Check it out
100% Air-tight, Water-tight
Every section has a rubber O-ring preventing your goods from deteriorating.
An extra compartment above the grinder's teeth for storage of AVB, hash, screens, etc. 
Safely carry concentrates with an optional non-stick PTFE insert. You also have the option of choosing a metal insert which comes in five different colors.
Store your concentrates and flower in the same device!
Patent Pending.
Grind Directly Into a Removeable Bucket
The inserts also fit directly underneath the holes in the grinding chamber. Grind, gather, and dispense with ease.
Portable De-Bowler
Another optional PTFE insert has a spike in the middle acting as a de-bowler for easy unpacking. 
This can be especially useful for portable vaporizers like the Arizer ArGo, Arizer Solo, Dynavap, and more. 
Patent pending.
Check it out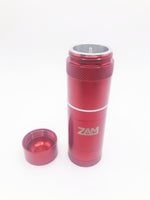 New Ring Shaped Neodymium Magnet
The center magnet post has been redesigned into a ring shape that allows more room for material and also prevents jamming. 
A stainless steel ring has been inserted in to the opposing lid. 
Experience the same magnetic attraction and smooth turning without the center jam. 
Patent pending.
Extended Teeth Length
The teeth are extended to provide a deeper space for material to be ground.
It's not the number of teeth that matter, but the total area of the surface edges.
With 14 sharp teeth, you can be sure your material will be ground to a medium/fine consistency with ease.  The tops of the teeth are pointed so buds can be easily placed into the chamber.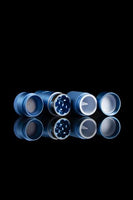 Optional Screen Section
100 micron stainless steel screen. Collect bountiful amounts of kief. The kief section is optional and can be removed or added at any time. 
The grinder is modular, so sections can be rearranged to fit your particular needs. 
Modular Design
Remove or rearrange sections to fit your liking. This is an example of what the grinder looks like with the kief section and main container section removed. Only 2.2" inches tall!
Buy Now